FROM NY STATE THRUWAY (POINTS SOUTH):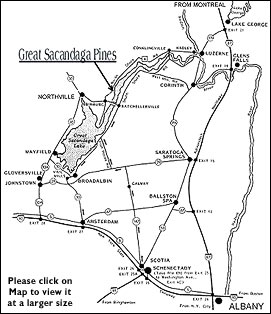 Take the Thruway to exit 25 (mile marker 153)
Proceed straight out of toll on 890W to exit 4C (approximately 5 miles)
At light make left, go thru town (approximately 2 miles).
Make right on 147 (Sacandaga Ave.)
Stay on 147 to Rte 29 W (approximately 17 miles)
Make left on 29 to Fish House rd (approximately 3 miles)
Make right on fish House, go to end (approximately 7 miles)
Make Right on South Shore Rd. (Rte 7), stay along lake south shore of lake (approximately 8 miles) until you come to the Batchellerville Bridge
Continue over the bridge go to the top of the hill to the first 4 way intersection (approximately 1 mile)
Make a right (just past "Fullers" gas station / convenience store) on North Shore Road
Go 1.1 miles and look for Great Sacandaga Pine's Camp driveway on the right
We're located just before the Old Trail Inn restaurant
Our office is located on the right side of the driveway attached to the first building on the right
Please park in the "visitor parking" area on the left and then go to check in.